Noxion Lucent LED Classic 5.5W 827 A60 E27 | Extra Warm White - Replaces 40W
Sold out. See alternative product
See now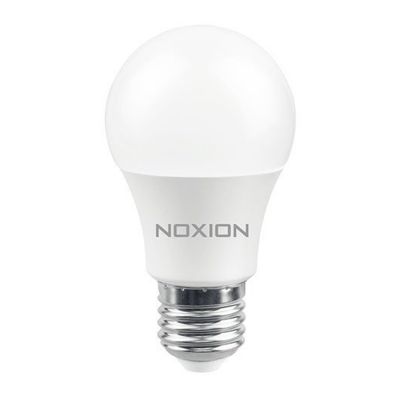 Specifications
Noxion Lucent LED Classic 5.5W 827 A60 E27 | Extra Warm White - Replaces 40W
Description
Noxion Lucent LED Classic 5.5W 827 A60 E27 | Extra Warm White - Replaces 40W
Highlights
Classic design
Uses 86% less energy!
Lifespan of 15,000 hours
2-year all-in warranty
Extra warm white - 2700K
Classic design
This Noxion Lucent Classic LED bulb has the popular E27 (Edison screw) cap/base. It has a frosted finish and a classic pear shape and is suitable for home or professional environments.
Uses 86% less energy!
One of the biggest benefits of switching from incandescent bulbs to LED ones is the far superior energy efficiency. This LED bulb has an A+ energy label and produces the same amount of light as a 40-watt incandescent bulb using just 5.5 watts. That means energy savings of 86%! Not only do you save money on your energy bills, but it's better for the environment too.
Lifespan of 15,000 hours
Another advantage of LED lighting is its much longer lifespan. This Noxion Lucent Classic LED bulb lasts 15,000 hours, while an incandescent bulb typically lasts only 1000 hours. Even though it's slightly more expensive to buy initially, this LED bulb essentially replaces 15 incandescent ones!
2-year all-in warranty
For extra peace of mind, this bulb is covered by an all-in warranty of 2 years.
Extra warm white - 2700K
This LED bulb has a colour temperature of 2700K and emits an extra warm white light that makes it perfect for creating a cosy atmosphere almost anywhere.
Reviews
No reviews for this product yet
Need help?
Contact our light specialists for free advice.