Philips Brilliantline Dichroic 50W GU5.3 12V MR16 60D - 14621
Sold out. See alternative product
See now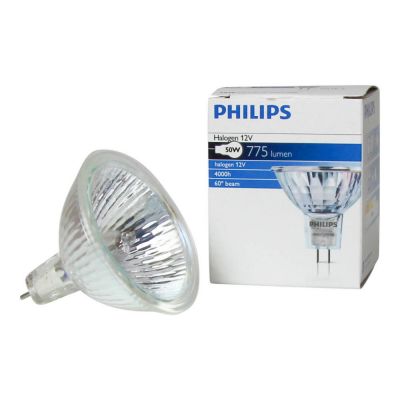 Alternatives

Specifications
Philips Brilliantline Dichroic 50W GU5.3 12V MR16 60D - 14621
General Information
SKU
114621
Manufacturer Name
Brill 50W GU5.3 12V 60D 1CT/10X5F
Quantity recommended
50

i

By purchasing the quantity recommended, your products will come as packaged by the manufacturer.

Energy efficiency class
A

i

EU guidelines dictate energy labels on electronic products to represent the energy efficiency of the device. This is indicated in levels (A++ to E), with A++ being the most efficient and E the least efficient.

Average Lifetime (h)
4000
Technical Information
Technology
Halogen
Wattage
50
Voltage (V)
12
Dimmable
Yes
Cap / Base
GU5.3

i

The cap/base of a bulb is the part that connects it to the socket in the fixture. E27 (Edison screw) and E24 (small Edison screw) caps/bases are among the most popular, although this depends on your location. GU10 is generally the most common cap/base for spotlights. Check which cap/base you need carefully as many other types are also available.

Colour temperature (Kelvin)
3000K - Warm White

i

The colour temperature refers to the colour produced by a light. It's measured in Kelvin (K) and ranges from warm white (1700K - 3000K) to daylight white (6500K). Neutral white (3100K - 5000K) is mainly used for general lighting applications.

Colour Code
930 - Warm White

i

The colour code is a combination of the colour rendering index (CRI) and the colour temperature (K). The first number refers to the CRI (1 = very poor colour rendering, 9 = maximum accuracy). The second and third numbers refer to the colour temperature. For example, a light with a colour code of 830 has very good colour rendering and produces a warm white light.

Colour Rendering (Ra)
90-99

i

The colour rendering index (CRI) indicates how accurately colours are represented under a beam of light. The index goes from 1 to 99, with a CRI of 1 being the poorest and a CRI of 99 being the best possible. Be careful not to confuse colour rendering with colour temperature (K).

Light Output (Lumen)
775

i

Lumen (lm) is the term used to describe the total amount of visible light emitted by a light source. The higher the number of lumens, the brighter it is.

Beam Angle (degree)
60

i

The beam angle indicates the spread of the light in degrees. Small beam angles are preferred for accent lighting, while larger beam angles are for general lighting purposes.
Lamp Information
EAN
8711500425195
UV Filter
Yes

i

Lamps and fixtures which contain a UV filter prevent UV light radiation from discolouring objects under the light beam.
Dimensions
| | | |
| --- | --- | --- |
| Length (mm) | 46 | |
| Height (mm) | 46 | |
| Diameter (mm) | 51 | |
| Shape | Spot | |
| Exact shape | MR16 | |
Description
Philips Brilliantline Dichroic 50W GU5.3 12V MR16 60D - 14621
Philips Brilliantline Dichroic 50W GU5.3 12V MR16 60D - 14621 at reduced prices! Take advantage of Philips quality with important discounts for large quantities! Fast shipping, do not hesitate to contact us!


Philips Brilliantline Dichroic 50W GU5.3 12V MR16 60D - 14621 presentation
Philips Brilliantline Dichroic are halogen lamps with reflectors. These lamps are composed of a neon filled halogen burner, and of an axial filament in a glass reflector.
Reviews
No reviews for this product yet